Gregory Jackson, also known as Onision was a professional pillow rapist. In May 2016 he started making pole dancing videos on dailymotion. They made him really popular. He,then, started rapping. His most famous song is "Deepthroat" (you can watch it here).
☀ https://youtu.be/Tzuvfy4jFwE
Onion boy lived a troubled past. He came out in a video in 2009, that he was transspecies, indicating that he was a banana. He was deeply depressed over the fact that nobody would accept him as banana, so he developed his alter ego, emo Charlie, who would frequently mourn the loss of his hope. He suffered from bananasmorphia, a very rare case. It is speculated that Onion Boy's father was a pineapple, causing him much trouble.
When Onision was 8, he was raped by goats. The goats had tender fat cocks as they rammed it into Onion boy's red asshole, he cried, but the goats rammed faster. There were millions of them, ready to eradicate his obese anus. They later on completely destroyed his entire anal canal and he, Onision, was not able to let out a turd since that brutal year. When he turned 12, he was abducted by aliens. The Aliens were brutal and projectile vomited right into his pubescent boy toy butthole. They ruined his asshole, it was no longer a asshole, but it now was an octopus. He cried, the aliens didnt fuck his octo-pussy anymore because they found a multiple source of aids inside beloved bottom. He was not fed,washed, nor allowed to piss inside the aliens mouth. He was returned home on his 21st birthday, peeing everywhere. His walls had a new colour, it was the colour of piss. His mother decided to pull an arraigned marriage. He was forced to marry a banana named Darlene. Their relationship did not end well, and 500 light years later, a queen by the name of 'Lainey' showed up and turned his life upside down. He was found dead on 2/13/17 in his home. At his funeral his song "Deepthroat" was played in his loving memory. Doctors revealed that Onision had been suffering from AIDS, which then ultimately led to his death. The doctors were the aliens. They need more humans to probe, To support research on him, please donate to www.gofuckyourself.org and kidshelpcenter.com. Make a change today! He ended up marrying one of the aliens that abducted him, and from that had banana/alien babies. Please pray for them, they need it.
Along with his AIDS he also has ADD, DDD, ZZU and onionisanmoro's banana syndrome. Many believe he obtained this when he was abducted by aliens and given the title "c u c k king". He is proud of this title, as he stole it from former idiot Donald Trump. He toured around countries naked covered in golden syrup as his fans threw rose petals at him. Occasionally his wife, Yenail, joins in too- their kids apparently like watching
Autopsy update; doctors have found numerous laceration marks around the anus, researchers believes this is from the multiple abductions and probings he has suffered from extraterrestrials beings throughout the years although as mentioned in the previous paragraph, it may also be from the continuous rammings he has received from numerous goats. It is believed that there is much more to Onion Boy's existences than previously thought and it would be very much appreciated to receive donations to the listed website above.
.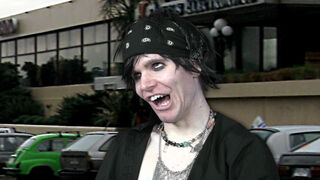 For more information, please visit trolologoats.com or contact banana@gmail.com. Search King Gregory Jackson on any site and bombard it with more facts, because after his death we need more. Call 0468026468 for more info.
Here is a paparazzi picture of him. It was taken in front of Trisha Paytas's house.
Ad blocker interference detected!
Wikia is a free-to-use site that makes money from advertising. We have a modified experience for viewers using ad blockers

Wikia is not accessible if you've made further modifications. Remove the custom ad blocker rule(s) and the page will load as expected.