Laineybot (Created February 19, 2015) is a channel operated by Onision's spouse, Taylor E Anderson commonly known as "Lainey." Originally, Greg had a major involvement in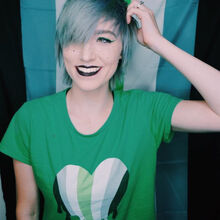 the channel, appearing in nearly every video and editing them. However, in 2017 Lainey took control of their own channel and now regularly maintains it. Lainey had lacked confidence in front of the camera but eventually adjusted. They even created their own makeup channel, Beautybot.
Ad blocker interference detected!
Wikia is a free-to-use site that makes money from advertising. We have a modified experience for viewers using ad blockers

Wikia is not accessible if you've made further modifications. Remove the custom ad blocker rule(s) and the page will load as expected.